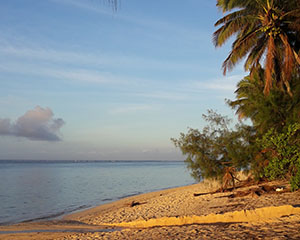 Southside is situated in Vaimaanga, Rarotonga, across the road from Wigmores super store and approximately 14km from the International Airport.
The Vaimaanga district is also famous for "Papua" (Wigmores Waterfall) and the cross island walk, a four hour trek that takes you through the tropical interior of the island to "The Needle" a large rock outcrop that reveals spectacular mountain views of Rarotonga, from the mountains to the sea! People generally start this trek inland from the township of Avarua ending up in Vaima at the waterfall.
Located on the waters edge, Southside offers one of Rarotonga's best beach for swimming, snorkeling or romantic strolls. Alternatively you can sit back and relax on the large deck and take in the scenery that will make this holiday truly memorable.